Our Mission
To provide opportunities that advance the education, health, well-being, and independence for near-Southside families.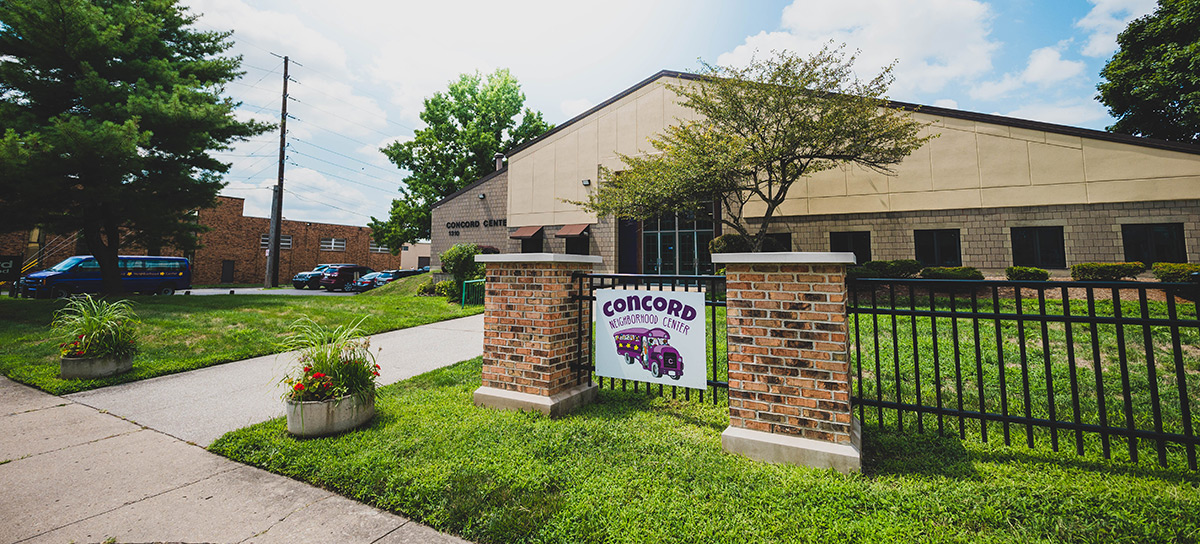 About Concord Neighborhood Center
Concord Neighborhood Center is the southernmost multi-service center in Indianapolis, IN. Founded in 1875, the Center provides high-quality and dynamic programming to Southside residents across the age spectrum that are intended to support household self-sufficiency and a resident well-being. Today, the Center's mission is realized through five core programs: Early Childhood Education, Youth Development, Family Social Services, Older Adult enrichment, and Care Coordination as well as an expansive array of extra-curricular and enrichment experiences to neighborhood residents.
Concord recognizes a formal, 12.3 mile catchment area that is bounded by Washington St. (north) I-65 (east), Thompson Road (south) and the White River (w). The Center is open from 6a to 6p weekdays with extensive extra-curricular and outreach programming planned during weekend and evening hours. Our doors are always open, and we welcome all of our neighbors to join us in a core program or extra-curricular event.
Our History
Concord Neighborhood Center was founded in 1875 by the American Turners and as a turnverein (German gymnastics society). The American Turners managed oversight of the facility and administered programs to the benefit of German immigrant families that relocated to the Near-Southside for employment. In the decades that followed, African American, Appalachian American and Jewish immigrant familie, attracted by the same employment opportunities, would also settle the neighborhood. The Jewish Welfare Federation assumed management of the Center in the 1910s and named it "The Communal Building." Dedicated to "a joy of living and enrichment of the mind," the Center functioned as a settlement house and provided an array of human and social service programs–English, naturalization, enrichment, and childcare classes—to residents. As families settled, they contributed their unique cultures, skills, and identities to this neighborhood and forged a unique and cohesive sense of place. From the 1870s through the Great Depression, the Southside is proudly described as "the heart of the early city." Following the second World War, a congruence of factors shaped middle-class American life. An era of prosperity ushered in upward mobility supported and inspired by: suburban development, construction of the interstate system, and further industrialization. Many families left the city's urban core for areas farther away from town.
In 1946, the Communal Building was established as a nonsectarian social services organization and a part of the Community Fund (United Way) and Council of Social Agencies. It was renamed Concord Center Association in 1952. From the early 1960s until 2004, the Center was a member organization of Indianapolis Settlements, Inc (ISI) and then Community Centers of Indianapolis (CCI). Following the latter's dissolution, Concord's independent 501(c)3 status was restored. The Center continues to direct programs and services to Southside residents. It is the southernmost multi-service organization in Marion County.
The Near-Southside Today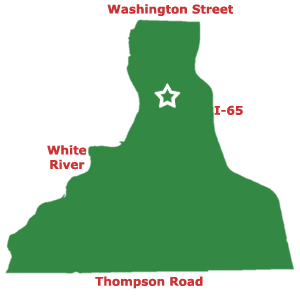 Concord's programs and services are intended for individuals and families who reside within a 12.3 square mile catchment area immediately south of downtown Indianapolis. The official catchment area is bounded by: Washington St. (N.), I-65 (E.), Thompson Road (S.), and White River (W). The catchment area includes all of ZIP 46225 and segments of ZIP 46203, 46227, and 46217 and spans both Center and Perry townships. Comprising 18 formal neighborhoods, Concord's neighborhood is home to more than 36 thousand individuals.